New Jerusalem, Resurrection Monastery Ensemble


"New Jerusalem" Resurrection monastery is a unique phenomenon in Russian history and culture. The intention of its founder, patriarch Nicon (1605-1681), was really daring - to recreate the Holy Land of the Christians with ar exact copy of the church of the Holy Sepulchre with its topography and relics under Moscow.



"Palestine" under Moscow was planned and realized as a grandiose architectural and landscape complex. Besides the monastery it includes a forest-park area with springs, ponds, and canals adjoining the monastery rampart from the North and North-West, called the Gethsemane garden. Here on the picturesque bank of the Istra river you can see one of the earliest monuments of the "New Jerusalem" ensemble - a diminutive four-storeyed building combining the features of both religious and secular architecture of the 17th century called patriarch Nicon's hermitage. It was intended for secluded prayers of the "New Jerusalem" founder and was preserved in the monastery as a memorial monument.



The reconstructions of the cathedral in the XVIII-XIX centuries changed its exterior to a certain extent but on the whole it remained unchanged.



Since 1980 some monuments of wooden architecture removed from different parts of the Moscow region are exhibited in the park area of the museum: the Church of Epiphany, a peasant house-hold, a chapel, and a mill. In future they will make up a part of architectural and ethnographical museum exposition in the open air.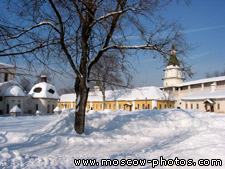 "New Jerusalem" Resurrection Monastery Ensemble
click to enlarge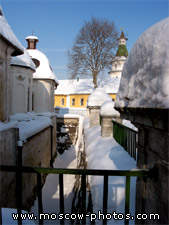 "New Jerusalem" Resurrection Monastery Ensemble
click to enlarge